SYNODA KATOLÍCKEJ CIRKVI PÁPEŽ FRANTIŠEK ZÚČASTNÍ SA NA EKUMENICKEJ VIGÍLII 30. SEPTEMBRA.
SINODO DELLA CHIESA CATTOLICA, PAPA FRANCESCO PARTECIPA ALLA VEGLIA ECUMENICA IL 30 SETTEMBRE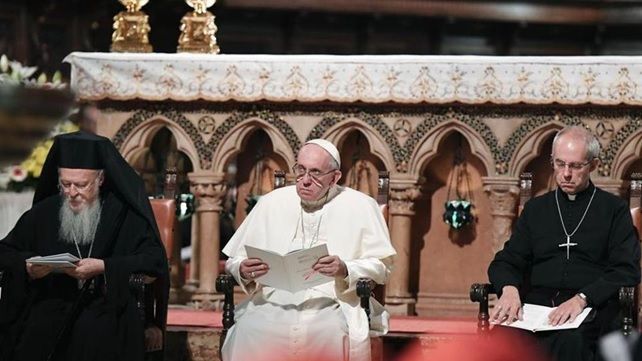 Alla veglia parteciperanno numerosi leader delle diverse Chiese e comunioni cristiane, oltre ai membri dell'Assemblea del Sinodo dei Vescovi, che inizieranno così la loro tappa romana prima di partire la sera stessa alla Fraterna Domus di Sacrofano per un ritiro spirituale di 3 giorni prima della Messa di apertura del Sinodo la mattina del 4 ottobre.
Dodici Capi di Chiesa e Leader cristiani sono stati invitati a guidare la preghiera insieme a Papa Francesco. Il programma è previsto in due parti, dopo un tempo di accoglienza sulla piazza con cori diversi poi una processione un tempo di Pre-Veglia dalle 17:00 alle 18:00 con quattro interventi di ringraziamento, intervallati da canti, sui doni che Dio ci fa e sulla responsabilità che ne consegue.
Dopo ogni intervento sono presentate alcune testimonianze. Poi dalle 18:00 alle 19:10 la Veglia di preghiera ecumenica con Papa Francesco che comporta un'introduzione di Papa Francesco, una Preghiera di apertura del Patriarca Bartolomeo, la lettura della Parola di Dio, un tempo di silenzio, intercessioni lette da un capo di Chiesa/leader cristiano, o delegato fraterno al Sinodo. Il Padre Nostro, introdotto dall'Arcivescovo Welby, le parole di Papa Francesco. Poi una preghiera conclusiva e benedizione insieme da parte di Papa Francesco e di tutti i dodici Capi delle Chiese/leader cristiani, rivolti ai partecipanti al Sinodo e a tutti gli altri.
---
SYNOD OF THE CATHOLIC CHURCH, POPE FRANCIS PARTICIPATES IN ECUMENICAL VIGIL ON 30 SEPTEMBER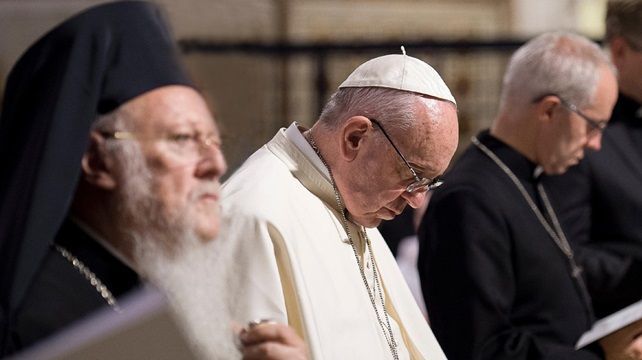 The vigil will be attended by numerous leaders of the different Churches and Christian Communions, as well as members of the Assembly of the Synod of Bishops, who will thus begin their stop in Rome before departing that same evening to the Fraterna Domus in Sacrofano for a three-day spiritual retreat before the opening Mass of the Synod on the morning of 4 October.
Twelve Church and Christian leaders have been invited to lead the prayer together with Pope Francis. The programme is planned in two parts, after a welcome time on the square with different choirs then a procession a Pre-Wake time from 17:00 to 18:00 with four thanksgiving speeches, interspersed with songs, on the gifts God gives us and the responsibility that follows.
After each talk, testimonies are presented. Then from 6:00 p.m. to 7:10 p.m. the Ecumenical Prayer Vigil with Pope Francis, which involves an introduction by Pope Francis, an Opening Prayer by Patriarch Bartholomew, the reading of the Word of God, a time of silence, intercessions read by a Church/Christian leader, or fraternal delegate to the Synod. The Lord's Prayer, introduced by Archbishop Welby, the words of Pope Francis. Then a concluding prayer and blessing together by Pope Francis and all twelve Church/Christian leaders, addressed to the Synod participants and all others.