Ekumenická liturgia s J.E. arcibiskupom Ianom Ernestom riaditeľom anglikánskeho centra v Ríme..
LITURGIA ECUMENICA CON L'ARCIVESCOVO IAN ERNST DIRETTORE DEL CENTRO ANGLICANO DI ROMA E RAPPRESENTANTE DELL'ARCIVESCOVO DI CANTERBURY PRESSO LA SANTA SEDE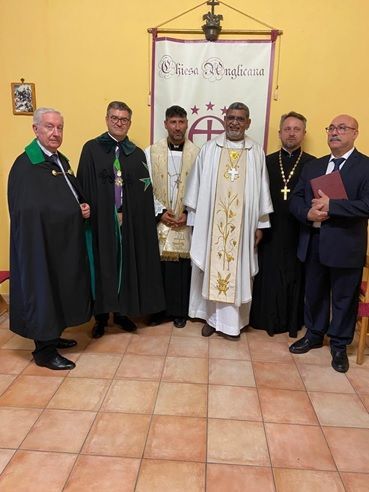 Una delegazione del Gran Baliato di Sicilia dell'Ordine di San Lazzaro, composta dal Prof. Antonino Longo, KCLI, Segretario Generale del Gran Baliato e Commendatore della Commenda di "Maria Santissima del Carmelo" in Acireale, nonché Rettore dell'Accademia Lazzarita San Luigi Re di Francia, e dal Dr. Antonio Fiscella, KLJ, Ospedaliere del Gran Baliato, ha partecipato alla liturgia ecumenica presso la parrocchia anglicana di Randazzo retta dal parroco padre Giovanni La Rosa.
Prima del sacro rito il Prof. Longo ha consegnato all'Arcivescovo Ian un messaggio scritto di benvenuto da parte del Gran Balì di Sicilia, al quale il prelato ha risposto con parole di apprezzamento e stima per l'attività ecumenica dell'Ordine.
Jan Ernest, 65 anni, è originario di Mauritius, ex vescovo di Mauritius ed arcivescovo della Chiesa Anglicana dell'Oceano Indiano, Ian Ernest nasce sull'isola di Rodrigues nel 1954. È figlio, nipote e pronipote di sacerdoti anglicani.
Dopo gli studi universitari al Madras Christian College di Chennai, in India, frequenta il Collegio teologico di San Paolo a Mauritius. Ordinato diacono nel 1983, si trasferisce in Inghilterra per proseguire la sua formazione. Nel 1985 diventa sacerdote. Viene eletto 15 esimo vescovo di Mauritius e diventa il primo mauriziano a ricoprire la carica di arcivescovo dell'Oceano Indiano nel 2006. Dal 2007 al 2012 ricopre la carica di presidente del Consiglio delle province anglicane in Africa e dal 2012 al 2016 di segretario generale del Global South, una rete della Comunione Anglicana. Da sempre impegnato nel dialogo anglo-cattolico, è direttore del Dentro Anglicano di Roma dal 2019.
Da quando è stato fondato nel 1966, il Centro ha consentito la costruzione di relazioni mature tra la Comunione Anglicana e la Chiesa Cattolica ed ha sostenuto il dialogo teologico, promuovendo l'unità dei cristiani. La vocazione del centro è dunque quella di costruire ponti e infondere lo spirito di collaborazione tra le due Chiese.
---
ECUMENICAL LITURGY WITH ARCHBISHOP IAN ERNST DIRECTOR OF THE ANGLICAN CENTRE IN ROME AND REPRESENTATIVE OF THE ARCHBISHOP OF CANTERBURY TO THE HOLY SEE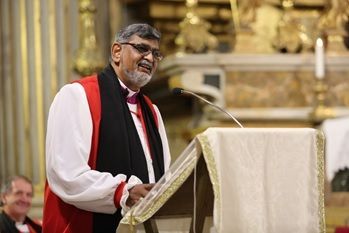 KA delegation of the Grand Bailiwick of Sicily of the Order of St. Lazarus, composed of Prof. Antonino Longo, KCLI, Secretary General of the Grand Bailiwick and Commander of the Commandery of "Maria Santissima del Carmelo" in Acireale, as well as Rector of the Lazarite Academy of St. Louis King of France, and Dr. Antonio Fiscella, KLJ, Hospitaller of the Grand Bailiwick, participated in the ecumenical liturgy at the Anglican parish of Randazzo run by the parish priest Father Giovanni La Rosa.
Before the sacred rite, Prof. Longo presented Archbishop Ian with a written message of welcome from the Grand Bailiff of Sicily, to which the prelate replied with words of appreciation and esteem for the Order's ecumenical activities.
Jan Ernest, 65, is a native of Mauritius, former bishop of Mauritius and archbishop of the Anglican Church of the Indian Ocean, Ian Ernest was born on the island of Rodrigues in 1954. He is the son, grandson and great-grandson of Anglican priests.
After his university studies at Madras Christian College in Chennai, India, he attended St Paul's Theological College in Mauritius. Ordained deacon in 1983, he moved to England to continue his formation. In 1985 he became a priest. He was elected 15th bishop of Mauritius and became the first Mauritian to hold the position of archbishop of the Indian Ocean in 2006. From 2007 to 2012 he served as President of the Council of Anglican Provinces in Africa and from 2012 to 2016 as Secretary General of Global South, a network of the Anglican Communion. Always committed to Anglo-Catholic dialogue, he has been director of the Anglican Inside Rome since 2019.
Since it was founded in 1966, the Centre has enabled the building of mature relations between the Anglican Communion and the Catholic Church and has supported theological dialogue, promoting Christian unity. The centre's vocation is therefore to build bridges and instil a spirit of cooperation between the two Churches.