Božská liturgia bulharskej pravoslávnej cirkvi v Ríme koncelebrovaná koordinátorom pre ekumenizmus Veľkého bailiwicku pre Sicíliu a Rhodos.
DIVINA LITURGIA IN ROMA DELLA CHIESA ORTODOSSA BULGARA CONCELEBRATA DAL RESPONSABILE PER L'ECUMENISMO DEL GRAN BALIATO DI SICILIA DELL'ORDINE DI SAN LAZZARO DI GERUSALEMME ED ALLA PRESENZA APOCRISARIO PATRIARCALE DELLA CHIESA CATTOLICA GRECO-MELKITA PRESSO LA SANTA SEDE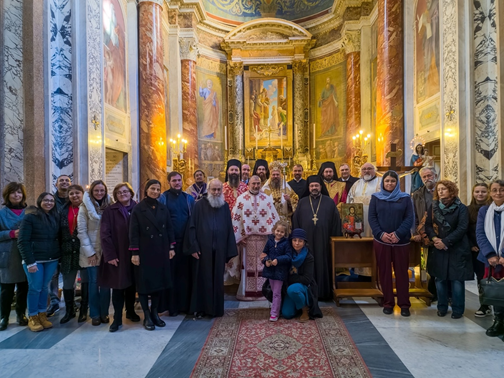 (Nella foto, al centro il Rev.do Prof. Ivan Ivanov, CHLJ, ed il Rev.do Archimandrita Chihade Abboud, CHLJ) 
Il 27 novembre nell'antica chiesa "Santa Maria in Monticelli" a Roma, la Comunità ortodossa ecclesiastica bulgara "Sveti Sedmochiselnitsi" ha celebrato i giorni dedicati a diverse importanti festività religiose: Introduzione della Vergine nel tempio, San Kliment Ohridski, San Teodosio di Turnovo e Sant'Apostolo Andrea.
Con la benedizione di Sua Santità Neofita, Patriarca di Bulgaria e Metropolita di Sofia e Sua Eminenza Anthonii, Metropolita dell'Europa occidentale e centrale della Chiesa ortodossa bulgara – Patriarcato di Bulgaria, Sua Eccellenza vescovo Policarpo, vicario del metropolita di Sofia, ha celebrato la Divina Liturgia per i bulgari nella Città Eterna, insieme all'archimandrita Eutimio, supervisore spirituale della diocesi di Sofia, all'arciprete Prof. Dr. Ivan Ivanov, CHLJ, Responsabile per l'ecumenismo del Gran Baliato di Sicilia dell'Ordine di San Lazzaro di Gerusalemme, presidente delle comunità ecclesiali bulgare in Italia e docente presso la Facoltà Teologica di SU "St. Kliment Ohridski", e con gli ierodiaconi Bartolomeo e Policarpo della Sacra Metropolia di Sofia.
Alla celebrazione hanno partecipato S.E. Bogdan Patashev, ambasciatore della Repubblica di Bulgaria presso la Santa Sede e l'Ordine di Malta, mons. Jaromir Zadrapa, rappresentante ufficiale del Pontificio Dicastero per l'Unità dei Cristiani e responsabile per i rapporti con le Chiese Ortodosse, l'Archimandrita Chihade Abboud, CHLJ, Apocrisario Patriarcale della Chiesa Cattolica Greco-Melkita presso la Santa Sede, in rappresentanza del Gran Balì di Sicilia dell'Ordine di San Lazzaro di Gerusalemme, il Prof. Archimandrita Nilo (Barone Adesi) della confraternita del monastero di San Giovanni Terrestris a Stilo, Reggio Calabria, che si prende cura dei migranti ortodossi dall'Europa.
Alla Liturgia hanno partecipato anche i rappresentanti delle comunità ortodosse bulgare, i membri del Consiglio parrocchiale e gli ospiti di Roma e Milano, e delle missioni di Colleferro, Anzio, Nettuno.
---
DIVINE LITURGY IN ROME OF THE BULGARIAN ORTHODOX CHURCH CONCELEBRATED BY THE PERSON RESPONSIBLE FOR ECUMENISM OF THE GRAND BALIATE OF SICILY OF THE ORDER OF SAINT LAZARUS OF JERUSALEM AND IN THE PRESENCE OF THE PATRIARCHAL APOCRISARY OF THE GREEK MELKITE CATHOLIC CHURCH AT THE HOLY SEE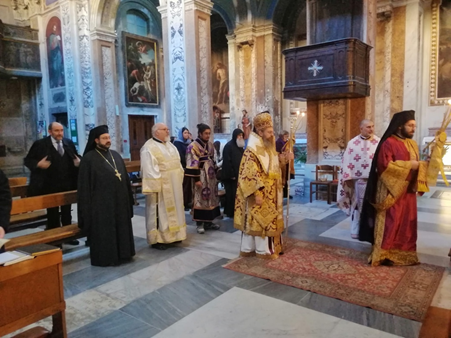 (In the photo, on the left the Rev. Archimandrite Chihade Abboud, CHLJ and on the right Prof. Ivan Ivanov, CHLJ)
On 27 November in the ancient church 'Santa Maria in Monticelli' in Rome, the Bulgarian Orthodox Church Community 'Sveti Sedmochiselnitsi' celebrated the days of several important religious holidays: Introduction of the Virgin into the Temple, St. Kliment Ohridski, St. Theodosius of Turnovo and St. Apostle Andrew.
With the blessing of His Holiness Neophyte, Patriarch of Bulgaria and Metropolitan of Sofia, and His Eminence Anthonii, Metropolitan of Western and Central Europe of the Bulgarian Orthodox Church – Patriarchate of Bulgaria, His Excellency Bishop Polycarp, Vicar of the Metropolitan of Sofia, celebrated the Divine Liturgy for the Bulgarians in the Eternal City, together with Archimandrite Euthymius, spiritual supervisor of the Sofia Diocese, Archpriest Prof. Dr. Ivan Ivanov, CHLJ, Responsible for ecumenism of the Grand Bailiwick of Sicily of the Order of St. Lazarus of Jerusalem, president of the Bulgarian ecclesial communities in Italy and professor at the SU Theological Faculty "St. Kliment Ohridski", and with the hierodiacones Bartholomew and Polycarp of the Holy Metropolia of Sofia.
The celebration was attended by H.E. Bogdan Patashev, Ambassador of the Republic of Bulgaria to the Holy See and the Order of Malta, Msgr. Jaromir Zadrapa, official representative of the Pontifical Dicastery for Christian Unity and responsible for relations with the Orthodox Churches, Archimandrite Chihade Abboud, CHLJ, Patriarchal Apocrisius of the Greek-Melkite Catholic Church to the Holy See, representing the Grand Bailiff of Sicily of the Order of St. Lazarus of Jerusalem, Prof. Archimandrite Nilo (Baron Adesi) of the confraternity of the monastery of San Giovanni Terrestris in Stilo, Reggio Calabria, which cares for Orthodox migrants from Europe.
The Liturgy was also attended by representatives of the Bulgarian Orthodox community, members of the parish council and guests from Rome and Milan, and from the missions of Colleferro, Anzio and Nettuno.