Stretnutie v Marseille medzi Patriarchom Josephom Absi duchovným ochrancom Rádu sv. Lazára a Veľkým Bailim Francúzska.
INCONTRO A MARSIGLIA TRA IL PATRIARCA JOSEPH ABSI PROTETTORE SPIRITUALE DELL'ORDINE DI SAN LAZZARO ED IL GRAN BALÌ DI FRANCIA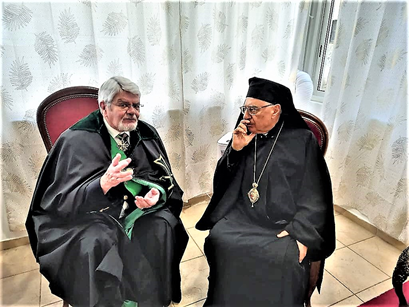 Lo scorso mese di settembre Sua Beatitudine il Patriarca Melkita Joseph Absi, Protettore Spirituale dell'Ordine di San Lazzaro si è recato a Marsiglia per celebrare il bicentenario della prima chiesa cattolica melchita in Francia, inaugurata nel 1822 e recentemente completamente restaurata.
L'Archimandrita Elie NAMMOUR, parroco di Saint-Nicolas-de-Myre, ha invitato il Gran Balì di Francia ad incontrarlo in questa occasione eccezionale per fare il punto sulle azioni in corso, l'ultima delle quali è stata l'invio di una trentina di letti medici azionati elettricamente alla "Casa del Benessere", una casa di riposo gestita dalle suore salvatoriane a Ksara-Zahle in Libano.
Il Gran Balì, S.E. il Cavaliere Dominique M. DOYEN, GCLJ, KMLJ, era accompagnato dal Cavaliere Aziz SLEEIMAN, KLJ, MMLJ, Vice Ospedaliere del Gran Baliato, che ha organizzato il trasporto dei vari materiali in Libano, e da altri due Cavalieri. Era presente anche monsignor Nadim HADDAD, SChLJ, uno dei cappellani dell'Ile-de-France.
Dopo questi colloqui, Sua Beatitudine ha celebrato una Messa solenne trasmessa da France 2. Durante la processione d'ingresso, la nostra delegazione ha preceduto il clero e alcuni posti sono stati riservati a loro.
In tale occasione, erano presenti il cardinale Jean-Marc AVELINE, arcivescovo di Marsiglia, e diversi prelati in rappresentanza sia di monsignor Laurent ULRICH, arcivescovo di Parigi, incaricato dell'ordinario dei cattolici orientali di Francia, sia di monsignor Pascal GOLLNISH, cappellano di Sua Santità e direttore generale dell'Opera d'Oriente.
---
MEETING IN MARSEILLES BETWEEN PATRIARCH JOSEPH ABSI SPIRITUAL PROTECTOR OF THE ORDER OF SAINT LAZARUS AND THE GRAND BAILIFF OF FRANCE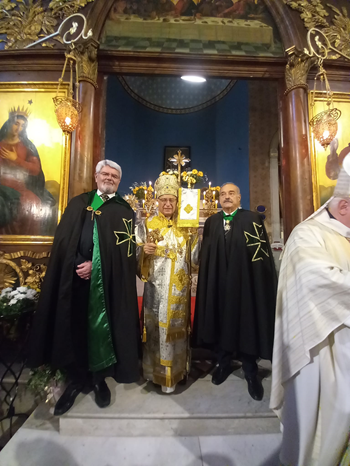 Last September, His Beatitude the Melkite Patriarch Joseph Absi, Spiritual Protector of the Order of Saint Lazarus, visited Marseilles to celebrate the bicentenary of the first Melkite Catholic church in France, inaugurated in 1822 and recently completely restored.
Archimandrite Elie NAMMOUR, parish priest of Saint-Nicolas-de-Myre, invited the Grand Bailiff of France to meet him on this exceptional occasion to take stock of the actions underway, the latest of which was the sending of some thirty electrically-operated medical beds to the 'House of Wellbeing', a rest home run by the Salvatorian nuns at Ksara-Zahle in Lebanon.
The Grand Bailiff, H.E. Chevalier Dominique M. DOYEN, GCLJ, KMLJ, was accompanied by Chevalier Aziz SLEEIMAN, KLJ, MMLJ, Deputy Hospitaller of the Grand Bailiwick, who organised the transport of the various materials to Lebanon, and two other Knights. Monsignor Nadim HADDAD, SChLJ, one of the chaplains of Ile-de-France, was also present.
After these talks, His Beatitude celebrated a solemn Mass broadcast by France 2. During the entrance procession, our delegation preceded the clergy and some seats were reserved for them.
On this occasion, Cardinal Jean-Marc AVELINE, Archbishop of Marseille, and several prelates were present, representing both Monsignor Laurent ULRICH, Archbishop of Paris, in charge of the Ordinary of the Eastern Catholics of France, and Monsignor Pascal GOLLNISH, Chaplain to His Holiness and Director General of the Opera d'Oriente.