Dar cirkevnému priorovi Mons. JE. kardinálovi Pennisi
IL GRAN BALIATO DI SICILIA HA DONATO L'ANELLO PASTORALE CON LO STEMMA DI GRAN PRIORE ECCLESIASTICO DELL'ORDINE A MONS. PENNISI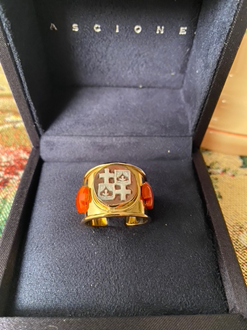 Il Gran Baliato di Sicilia ha fatto realizzare e donato a Mons. Michele Pennisi, in occasione della fine del suo mandato come Arcivescovo di Monreale, l'anello pastorale con lo stemma di Gran Priore Ecclesiastico dell'Ordine di San Lazzaro di Gerusalemme, fatto realizzare dalla ditta ASCIONE di Torre del Greco, la quale dal 1855 è specializzata nella lavorazione del corallo e dei cammei.
Alla consegna dell'anello, oltre all'attuale reggente del Gran Baliato, il Cancelliere Paolo Tronca, hanno presenziato il Gran Balì Emerito ed alcuni alti ufficiali del Consiglio di Governo, oltre al nuovo arcivescovo di Monreale Mons. Gualtiero Isacchi, il quale ha benedetto l'anello pastorale prima della sua consegna a Mons. Pennisi.
---
THE GRAND BAILIWICK OF SICILY DONATED THE PASTORAL RING WITH THE COAT OF ARMS OF THE ORDER'S ECCLESIASTICAL GRAND PRIOR TO MONS. PENNISI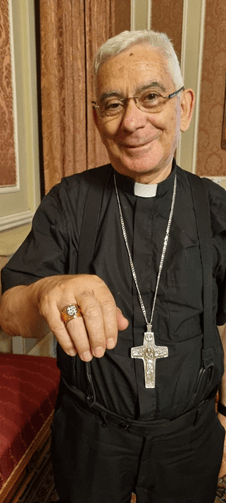 On the occasion of the end of his term of office as Archbishop of Monreale, the Grand Bailiff of Sicily had the pastoral ring with the coat of arms of the Grand Ecclesiastical Prior of the Order of St. Lazarus of Jerusalem made and donated to Monsignor Michele Pennisi, made by the company ASCIONE of Torre del Greco, which has specialised in working coral and cameos since 1855.
Present at the delivery of the ring, in addition to the current regent of the Grand Bailiwick, Chancellor Paolo Tronca, were the Grand Bailiff Emeritus and some high officials of the Government Council, as well as the new Archbishop of Monreale, Monsignor Gualtiero Isacchi, who blessed the pastoral ring before its delivery to Monsignor Pennisi.