Prednáška rev. prof. Ivana Ivanova ,CHLJ, na Pápežskej gregoriánskej univerzite v Ríme.
LEZIONE DEL REV. PROF. IVAN IVANOV, CHLJ, PRESSO LA PONTIFICIA UNIVERSITÀ GREGORIANA DI ROMA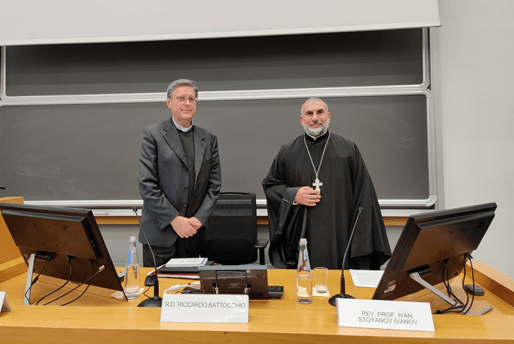 Lo scorso 18 marzo 2022, nell'aula magna della Pontificia Università Gregoriana a Roma, nel contesto della conferenza "Camminare insieme sulla stessa via – la teologia all'ascolto dell'Ecumenismo" si è tenuta una lezione del Prof. Dr. Ivan Ivanov, ChLJ, Professore di Liturgia eucaristica e sacramentale presso la Facoltà di Teologia dell'Università di Sofia "St. Kliment Ohridski" e visiting professor della Teologia interconfessionale presso la Pontificia Università Lateranense, responsabile per la Comunità ortodossa bulgara in Italia e responsabile per l'ecumenismo del Gran Baliato di Sicilia dell'Ordine di San lazzaro di Gerusalemme.
La lezione era dedicata al tema della Liturgia, della sinodalità (ecumenicità) e della cattolicità (sobornost) della Chiesa di Cristo.
Moderatore dell'evento è stato il Prof. Riccardo Battocchio, Presidente dell'Associazione Italiana di teologia e Rettore dell'Almo Collegio Capranica a Roma. L'evento è stato trasmesso in diretta ed è stato seguito da oltre 400 studenti, di persona e online.
Dopo la lezione c'è stata una discussione sull'argomento. Ciò ha suscitato un grande interesse per la lezione del Prot. Ivanov, il quale ha ricevuto un invito a incontrare gli studenti della Pontificia Università Lateranense sullo stesso argomento nel maggio prossimo del 2022.
---
LESSON BY REV. PROF. IVAN IVANOV, CHLJ, AT THE PONTIFICAL GREGORIAN UNIVERSITY OF ROME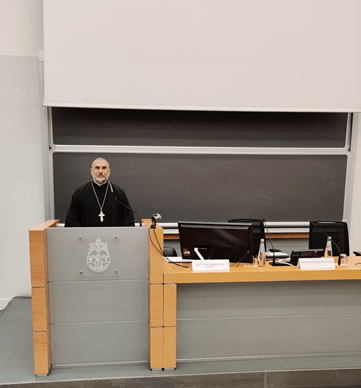 On 18 March 2022, in the Aula Magna of the Pontifical Gregorian University in Rome, in the context of the conference "Walking together on the same path – theology listening to Ecumenism" a lesson was given by Prof. Dr. Ivan Ivanov, ChLJ, Professor of Eucharistic and Sacramental Liturgy at the Faculty of Theology of Sofia University "St. Kliment Ohridski" and visiting professor of Interfaith Theology at the Pontifical Lateran University, responsible for the Bulgarian Orthodox Community in Italy and responsible for ecumenism of the Grand Bailiwick of Sicily of the Order of St. Lazarus of Jerusalem.
The lecture was dedicated to the theme of the liturgy, synodality (ecumenicality) and catholicity (sobornost) of the Church of Christ.
The moderator of the event was Prof. Riccardo Battocchio, President of the Italian Association of Theology and Rector of the Almo Collegio Capranica in Rome. The event was broadcast live and was followed by over 400 students, in person and online.
After the lecture there was a discussion on the topic. This aroused great interest in Prot. Ivanov's lesson, and he received an invitation to meet with the students of the Pontifical Lateran University on the same topic in May 2022.