Veľký Baili Talianska povýšený do hodnosti Veľkokríža.
NOMINA DEL GRAN BALÌ DI SICILIA A CAVALIERE DI GRAN CROCE DELL'ORDINE AL MERITO DELLA REPUBBLICA ITALIANA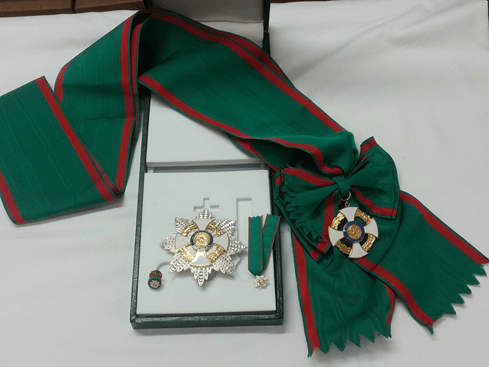 (Insegne di Cavaliere di Gran Croce)
S.E. il Dr. Pino Zingale, GCLJ-J, Gran Balì di Sicilia dell'Ordine di San Lazzaro di Gerusalemme e Priore del Capitolo dei Cavalieri di San Lazzaro di Gerusalemme in Monreale, con decreto del Presidente della Repubblica è stato nominato Cavaliere di Gran Croce dell'Ordine al Merito della Repubblica Italiana, la massima onorificenza conferita dallo Stato.
L'Ordine è stato istituito con la Legge 3 marzo 1951, n. 178, è il primo fra gli Ordini nazionali italiani ed è destinato a "ricompensare benemerenze acquisite verso la Nazione nel campo delle lettere, delle arti, della economia e nel disimpegno di pubbliche cariche e di attività svolte a fini sociali, filantropici ed umanitari, nonché per lunghi e segnalati servizi nelle carriere civili e militari.".
Il Presidente della Repubblica è il Capo dell'Ordine, il quale è retto da un Consiglio composto di un Cancelliere, che lo presiede, e di dieci membri, ed è articolato nei gradi onorifici di: Cavaliere di Gran Croce, Grande Ufficiale, Commendatore, Ufficiale, Cavaliere.
---
GRAND BAILIFF OF SICILY APPOINTED KNIGHT OF THE GRAND CROSS OF THE ORDER OF MERIT OF THE ITALIAN REPUBLIC
H.E. Dr. Pino Zingale, GCLJ-J, Grand Bailiff of Sicily of the Order of St. Lazarus of Jerusalem and Prior of the Chapter of the Knights of St. Lazarus of Jerusalem in Monreale, by decree of the President of the Republic was appointed Knight of the Grand Cross of the Order of Merit of the Italian Republic, the highest honour conferred by the State.
The Order was established by Law No. 178 of March 3, 1951, and is the first of the Italian national Orders and is intended to "reward merits acquired towards the Nation in the field of letters, arts, economy and in the performance of public offices and activities carried out for social, philanthropic and humanitarian purposes, as well as for long and distinguished services in civil and military careers".
The President of the Republic is the Head of the Order, which is governed by a Council composed of a Chancellor, who chairs it, and ten members, and is divided into the honorary grades of: Knight of the Grand Cross, Grand Officer, Commander, Officer, Knight.