V Damasku bola inaugurovaná prvá teologická fakulta v prítomnosti duchovného ochrancu rádu patriarchu al- Absí.
DAMASCO, INAUGURATA LA PRIMA FACOLTÀ DI TEOLOGIA ALLA PRESENZA DEL PATRIARCA PROTETTORE DELL'ORDINE DI SAN LAZZARO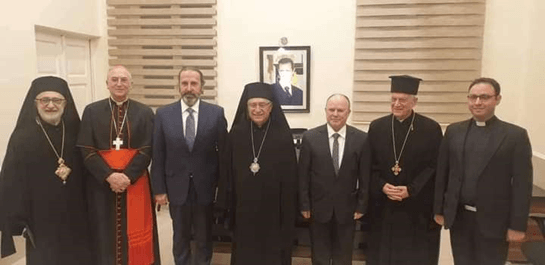 Il 20 novembre è stata inaugurata la Facoltà Privata di Teologia, considerata la prima di quel tipo in Siria per lo studio della Teologia Cristiana, dando così vita ad un nuovo centro intellettuale di proprietà della Chiesa Greco Cattolico Melchita che fornisce una laurea in teologia. Anzi, ad un centro in cui "la teologia orientale contemporanea possa interagire con il suo ambiente", ha detto il Patriarca al-Absi della Chiesa Cattolica Greco Melchita, Protettore Spirituale dell'Ordine di San Lazzaro.
Che fosse un evento importante, era testimoniato dal parterre, che includeva, oltre al Patriarca, anche Mansour Azzam, ministro degli Affari Presidenziali, e Bassam Ibrahim, Ministro dell'Alta Educazione e della ricerca scientifica, nonché un buon numero di rappresentanti ecclesiastici.
Il Patriarca al-Absi ha detto che la facoltà è stata stabilità sotto il decreto legislativo n. 6 per l'anno 2019, e che l'apertura dell'edificio arriva a coronare "il lungo percorso verso la virtù e la scienza che è cominciato anni fa e non si è fermato".
Motto della nuova facoltà è "Virtù e Scienza", e questo motto – ha detto il patriarca al Absi – si "riflette nell'apertura a tutte le religioni, libri santi e sacri insegnamenti cristiani".
Il ministro dell'Alta Educazione ha voluto rimarcare l'unicità del corso, che non ha pari in termine di livello teologico e specializzazione.
Succede così che la Siria prova a lanciare una facoltà di teologia che ha anche lo scopo di sviluppare un dialogo tra le religioni. Il ministro ha detto che la Siria "ha respinto tutte le forme di sottomissioni", ed è ora "culla di cristianità, incubatore dell'Islam e minareto della moderazione nella sua profondità culturale, rifiuto dell'estremismo, violenza, odio e discriminazione tra tutti i componenti della società siriana.
---
DAMASCUS, INAUGURATION OF THE FIRST FACULTY OF THEOLOGYIN THE PRESENCE OF THE PATRIARCH PROTECTOR OF THE ORDER OF SAINT LAZARUS
On 20 November, the Private Faculty of Theology, considered the first of its kind in Syria for the study of Christian Theology, was inaugurated, creating a new intellectual centre owned by the Melkite Greek Catholic Church that provides a degree in theology. Indeed, to a centre where 'contemporary Eastern theology can interact with its environment', said Patriarch al-Absi of the Melkite Greek Catholic Church, Spiritual Protector of the Order of St Lazarus.
That it was an important event was evidenced by the audience, which included, in addition to the Patriarch, Mansour Azzam, Minister of Presidential Affairs, and Bassam Ibrahim, Minister of Higher Education and Scientific Research, as well as a good number of ecclesiastical representatives.
Patriarch al-Absi said the faculty has been established under Legislative Decree No. 6 for the year 2019, and that the opening of the building comes to crown "the long path towards virtue and science that began years ago and has not stopped".
The new faculty's motto is "Virtue and Science", and this motto – said the patriarch to Absi – is "reflected in its openness to all religions, holy books and sacred Christian teachings".
The Minister of Higher Education wanted to emphasise the uniqueness of the course, which has no equal in terms of theological level and specialisation.
Thus, Syria is trying to launch a theology faculty that also aims to develop a dialogue between religions. The minister said that Syria "has rejected all forms of subjugation", and is now "the cradle of Christianity, the incubator of Islam and the minaret of moderation in its cultural depth, rejection of extremism, violence, hatred and discrimination among all components of Syrian society.