40. výročie založenia Veľkopriorátu Austrália.
IL GRAN PRIORATO D'AUSTRALIA CELEBRA IL 40° ANNIVERSARIO DALLA FONDAZIONE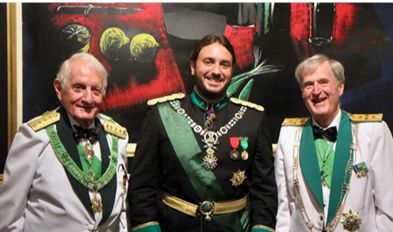 (Il Gran Priore Emerito d'Australia, Chevalier Willoughby Bailey AO GCLJ GCMLJ GCrLJ, a sx, il Gran Maestro, al centro, e l'attuale Gran Priore, The Hon. Chevalier Gavin L. Fielding AM GCLJ KMLJ, a dx)
Il Gran Priorato d'Australia dell'Ordine di San Lazzaro di Gerusalemme celebra quest'anno i suoi primi 40 anni di vita.
L'Ordine di San Lazzaro iniziò il suo cammino in Australia con il Gran Cancelliere dell'epoca Sua Eccellenza il Cavaliere Guy Coutant de Saisseval, il quale nominò il Cavaliere Alderman Ray Bagdonas, CLJ, venendo, quest'ultimo, incaricato nel 1980, dal Gran Maestro dell'Obbedienza di Parigi, Sua Eccellenza Pierre de Cossé-Brissac, 12° Duke of Brissac, di formare una delegazione dell'Ordine in Australia.S
Il primo incontro tra i membri scelti da Alderman Ray Bagdonas avvenne a Sydney, nel New South Wales, nel 1981, e la prima investitura ebbe luogo il 17 ottobre 1981 presso la Chiesa Anglicana di San Giovanni.
Nel 1982 la Delegazione Nazionale divenne Commenda del New South Wales e, gradatamente, si estese in altri Stati australiani: nel 1982 la Victorian Commandery, nel 1983 la Queensland Commandery, nel 1984 la Australian Capital Territory e la South Australian Commandery, nel 1986 la Western Australian Commandery e nel 1988 la Tasmanian Commandery. Nel 1999 è stata elevata a Gran Priorato.
Nel 2013 è stata creata la Order of Saint Lazarus of Jerusalem Australia Foundation (OLJ Australia Foundation) per lo svolgimento delle attività caritative ed assistenziali.
Tra i personaggi più illustri del Gran Priorato spicca il cardinale George Pell, Arcivescovo Metropolita emerito di Sidney, membro dell'Ordine da oltre trent'anni.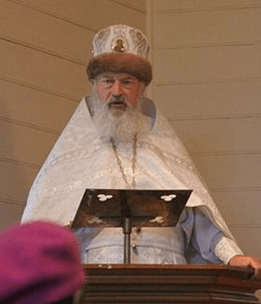 (L'Arciprete Mitrato Molto Reverendo Dr Michael Protopopov, OAM, ChLJ, della Chiesa Ortodossa Russa, Vice Cappellano Nazionale del Gran Priorato d'Australia)
---
THE GRAND PRIORY OF AUSTRALIA CELEBRATES THE 40TH
ANNIVERSARY OF ITS FOUNDATION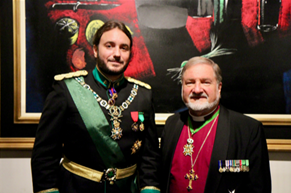 (The Grand Master and the National Chaplain of the Grand Priory of Australia, Right Reverend Richard Hurford OAM KStJ ECLJ,  Anglican Bishop Emeritus of Bathurst)
The Grand Priory of Australia of the Order of St Lazarus of Jerusalem celebrates its first 40 years of existence this year.
The Order of St. Lazarus began its journey to Australia with the then Grand Chancellor, His Excellency Knight Guy Coutant de Saisseval, who appointed Knight Alderman Ray Bagdonas, CLJ, who was appointed in 1980 by the Grand Master of the Obedience of Paris, His Excellency Pierre de Cossé-Brissac, 12th Duke of Brissac, to form a delegation of the Order to Australia.
The first meeting of the members selected by Alderman Ray Bagdonas took place in Sydney, New South Wales, in 1981, and the first investiture took place on 17th October 1981 at St. John's Anglican Church.
In 1982 the National Delegation became the Commandery of New South Wales and gradually expanded into other Australian States: in 1982 the Victorian Commandery, in 1983 the Queensland Commandery, in 1984 the Australian Capital Territory and the South Australian Commandery, in 1986 the Western Australian Commandery and in 1988 the Tasmanian Commandery. In 1999 it was elevated to Grand Priory.
In 2013 the Order of Saint Lazarus of Jerusalem Australia Foundation (OLJ Australia Foundation) was established to carry out charitable and welfare activities.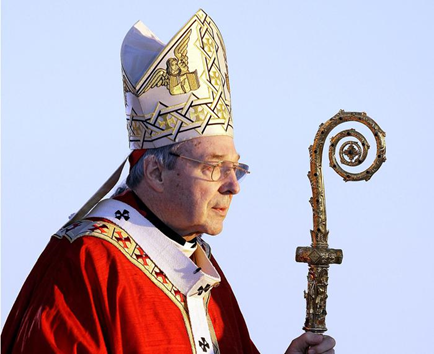 (Cardinal George Pell, GCLJ, Metropolitan Archbishop Emeritus of Sydney)
Among the most distinguished members of the Grand Priory is Cardinal George Pell, Metropolitan Archbishop Emeritus of Sydney, who has been a member of the Order for over 30 years.