THE RT. REV. JONATHAN GOODALL, ANGLICAN BISHOP OF EBBSFLEET, HAS RESIGNED TO ENTER INTO FULL COMMUNION WITH THE CATHOLIC CHURCH
IL MOLTO REVERENDO JONATHAN GOODALL, VESCOVO ANGLICANO DI EBBSFLEET, SI È DIMESSO PER ENTRARE IN PIENA COMUNIONE CON LA CHIESA CATTOLICA
(Il Molto Reverendo Jonathan Goodall)
Il Molto Reverendo Jonathan Goodall, vescovo anglicano di Ebbsfleet, si è dimesso per entrare in piena comunione con la Chiesa cattolica.
"Sono arrivato alla decisione di dimettermi da vescovo di Ebbsfleet, per essere ricevuto in piena comunione con la Chiesa cattolica romana, solo dopo un lungo periodo di preghiera, che è stato tra i periodi più difficili della mia vita", ha detto in una dichiarazione il 3 settembre, la festa di San Gregorio Magno, il papa del sesto secolo che ha lanciato una missione per convertire l'Inghilterra al cristianesimo. "La vita nella comunione della Chiesa d'Inghilterra ha formato e nutrito il mio discepolato di cristiano cattolico per molti decenni. È qui che ho ricevuto per la prima volta – e per metà della mia vita ho amministrato, come sacerdote e vescovo – la grazia sacramentale della vita e della fede cristiana. Ne farò sempre tesoro e ne sarò grato". "Confido che tutti voi crediate che ho preso la mia decisione come un modo per dire sì alla chiamata e all'invito attuale di Dio, e non per dire no a ciò che ho conosciuto e sperimentato nella Chiesa d'Inghilterra, verso la quale ho un debito così profondo".
Il vescovo 60enne ha servito come vescovo di Ebbsfleet dal 2013, un ruolo in cui ha agito come visitatore episcopale provinciale, sostenendo le congregazioni della Chiesa d'Inghilterra che non riconoscono le donne prete e vescovo.
È stato cappellano e segretario ecumenico dell'arcivescovo di Canterbury, Rowan Williams, dal 2005 al 2012. Ha forti legami con l'Abbazia di Westminster, la chiesa reale di Londra. È stato canonico minore, cappellano e sacrestano dal 1992 al 1998. Dal 2004 in poi, è stato sacerdote vicario dell'Abbazia di Westminster. Un comunicato stampa del 3 settembre ha detto che l'attuale arcivescovo di Canterbury, Justin Welby, ha accettato la decisione di Goodall "con rammarico".
Goodall è il secondo vescovo di Ebbsfleet a cercare la piena comunione con la Chiesa cattolica. Nel 2010, il Molto Reverendo Andrew Burnham si è dimesso dopo 10 anni di incarico ed è stato ricevuto nella Chiesa cattolica nel 2011 e poi ordinato sacerdote cattolico, servendo nel nuovo Ordinariato Personale di Nostra Signora di Walsingham. Oggi, mons. Burnham è parroco della parrocchia cattolica di Hendred nell'Oxfordshire, nel centro-sud dell'Inghilterra.
Oltre a Burnham, anche altri due vescovi della Chiesa d'Inghilterra sono stati ricevuti nella Chiesa cattolica: il Molto Reverendo Keith Newton, vescovo di Richborough, ed il Molto Reverendo John Broadhurst, vescovo di Fulham.
Nel 2019 è stato ricevuto anche il Reverendo Gavin Ashenden, un ex cappellano onorario della Regina nella Chiesa d'Inghilterra che era stato consacrato come vescovo in una comunità ecclesiale anglicana continuativa.
Il Rev. Graham Leonard, vescovo di Londra dal 1981 al 1991, è diventato il più anziano ecclesiastico della Chiesa d'Inghilterra a diventare cattolico dopo la Riforma, quando è entrato in piena comunione nel 1993.
---
THE RT. REV. JONATHAN GOODALL, ANGLICAN BISHOP OF EBBSFLEET, HAS RESIGNED TO ENTER INTO FULL COMMUNION WITH THE CATHOLIC CHURCH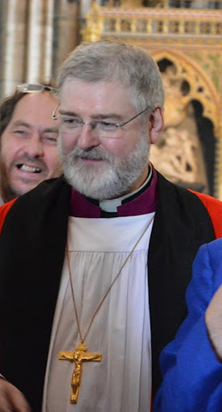 (The Righ Reverend Jonathan Goodall)
The Rt. Rev. Jonathan Goodall, Anglican Bishop of Ebbsfleet, has resigned to enter into full communion with the Catholic Church.
"I have arrived at the decision to step down as Bishop of Ebbsfleet, in order to be received into full communion with the Roman Catholic Church, only after a long period of prayer, which has been among the most testing periods of my life," he said in a statement on Sept. 3, the feast of St. Gregory the Great, the sixth-century pope who launched a mission to convert England to Christianity. "Life in the communion of the Church of England has shaped and nourished my discipleship as a Catholic Christian for many decades. This is where I first received — and for half my life have ministered, as priest and bishop — the sacramental grace of Christian life and faith. I shall always treasure this and be thankful for it." "I trust you all to believe that I have made my decision as a way of saying yes to God's present call and invitation, and not of saying no to what I have known and experienced in the Church of England, to which I owe such a deep debt."
The 60-year-old bishop has served as bishop of Ebbsfleet since 2013, a role in which he acted as a provincial episcopal visitor, or "flying bishop," supporting Church of England congregations that do not recognize women priests and bishops. He was chaplain and ecumenical secretary to the Archbishop of Canterbury, Rowan Williams, from 2005 to 2012. He has strong ties to Westminster Abbey, London's royal church. He was a minor canon, chaplain, and sacrist from 1992 to 1998. From 2004 onwards, he has been a Priest Vicar of Westminster Abbey. A Sept. 3 press release said that the current Archbishop of Canterbury, Justin Welby, accepted Goodall's decision "with regret."
Goodall is the second bishop of Ebbsfleet to seek full communion with the Catholic Church. In 2010, the Rt. Rev. Andrew Burnham stepped down after 10 years in the post. He was received into the Catholic Church in 2011 and then ordained a Catholic priest, serving in the newly established Personal Ordinariate of Our Lady of Walsingham. Today, Msgr. Burnham is pastor of Hendred Catholic Parish in Oxfordshire, south-central England.
Alongside Burnham, two other Church of England bishops were also received into the Catholic Church: the Rt. Rev. Keith Newton, bishop of Richborough, and the Rt. Rev. John Broadhurst, the bishop of Fulham.
In 2019, Gavin Ashenden, a former Honorary Chaplain to the Queen in the Church of England who was consecrated as a bishop in a Continuing Anglican ecclesial community, was also received.
The Rt. Rev. Graham Leonard, bishop of London from 1981 to 1991, became the most senior Church of England cleric to become a Catholic since the Reformation when he entered into full communion in 1993.