CATHOLICS AND EASTERN ORTHODOX UNITED BY THEIR COMMON FAITH IN THE REAL PRESENCE OF CHRIST IN THE EUCHARIST
CATTOLICI ED ORTODOSSI ORIENTALI UNITI DALLA COMUNE FEDE NELLA PRESENZA REALE DI CRISTO NELL'EUCARESTIA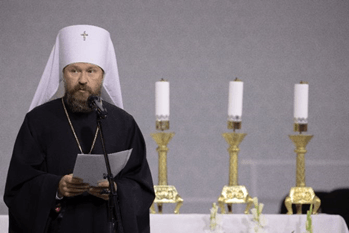 (Il Metropolita russo Hilarion al Congresso Eucaristico Internazionale di Budapest, 8 settembre 2021)
Il Metropolita Hilarion, uno dei più importanti leader ortodossi russi, ha dichiarato che la fede nella Presenza Reale di Cristo nell'Eucaristia unisce cattolici e ortodossi orientali nonostante le loro divisioni.
Tenendo la catechesi di apertura al 52° Congresso Eucaristico Internazionale a Budapest, Ungheria, il 6 settembre, il metropolita Hilarion ha delineato la comprensione ortodossa orientale dell'Eucaristia.
"I cattolici e gli ortodossi non sono uniti nell'Eucaristia, ma sono uniti nella convinzione che nel pane e nel vino eucaristici dopo la loro consacrazione non abbiamo solo la presenza simbolica di Cristo, ma la sua presenza piena e reale", ha detto il presidente del Dipartimento per le relazioni ecclesiastiche esterne del Patriarcato di Mosca.
"Noi crediamo che il pane e il vino dell'Eucaristia siano il vero corpo e sangue di nostro Signore Gesù Cristo. La celebrazione eucaristica non è solo una commemorazione dell'Ultima Cena, ma anche la sua attualizzazione per ogni credente che vi partecipa."
"E il celebrante non agisce nell'Eucaristia per conto proprio. È a nome di Gesù Cristo stesso che egli pronuncia le parole originariamente pronunciate da Cristo nella sua Ultima Cena. Ed è Cristo stesso che amministra il sacramento per i suoi seguaci, non un prete o un vescovo".
Il 52° Congresso Eucaristico Internazionale si è aperto il 5 settembre con un coro di 1.000 persone e una messa con prime comunioni.
---
CATHOLICS AND EASTERN ORTHODOX UNITED BY THEIR COMMON FAITH IN THE REAL PRESENCE OF CHRIST IN THE EUCHARIST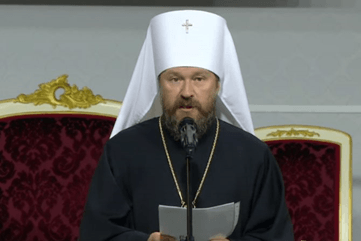 (Russian Metropolitan Hilarion at the International Eucharistic Congress in Budapest, 8 September 2021)
Metropolitan Hilarion, one of the most important Russian Orthodox leaders, stated that faith in the Real Presence of Christ in the Eucharist unites Catholics and Eastern Orthodox despite their divisions.
Delivering the opening catechesis at the 52nd International Eucharistic Congress in Budapest, Hungary, on Sept. 6, Metropolitan Hilarion outlined the Eastern Orthodox understanding of the Eucharist.
"The Catholics and the Orthodox are not united in the Eucharist, but they are united in the conviction that in the Eucharistic bread and wine after their consecration we have not just the symbolic presence of Christ, but his full and real presence," said the chairman of the Department for External Church Relations of the Moscow Patriarchate.
"We believe that the bread and wine of the Eucharist are the true body and blood of our Lord Jesus Christ. The Eucharistic celebration is not only a commemoration of the Last Supper, but also its actualization for each believer who participates in it."
"And the celebrant does not act in the Eucharist on his own behalf. It is on behalf of Jesus Christ himself that he pronounces the words originally uttered by Christ at his Last Supper. And it is Christ himself who administers the sacrament for his followers, not a priest or a bishop."
The 52nd International Eucharistic Congress opened on Sept. 5 with a 1,000-strong choir and a Mass featuring First Communions.