Začal projekt zdravia a solidarity s Karolom.
AVVIATA L'ATTIVITA' DEL PROGETTO Projket SANITA' SOLIDALE IN COLLABORAZIONE CON LA KAROL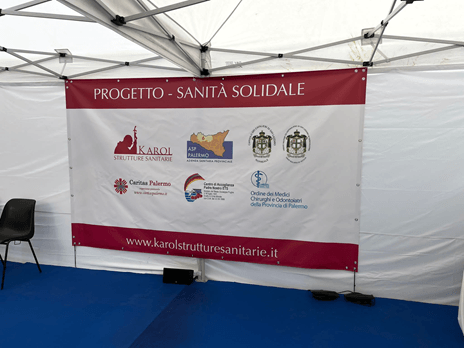 Si è svolta il 18 settembre 2021 la prima giornata di prestazioni sanitarie gratuite agli indigenti, presso la Clinica Cosentino, in collaborazione con la KAROL s.p.a. e con il patrocinio della Azienda Sanitaria Provinciale di Palermo. Che ha visto impegnati i medici membri dell'Ordine di San Lazzaro accanto a quelli della KAROL ed altri volontari.
L'attività, organizzata dalla San Lazzaro onlus, braccio operativo del Gran Baliato di Sicilia dell'Ordine di San lazzaro, ha visto affluire circa un centinaio di persone presso le strutture della KAROL, molti di religione musulmana.
L'iniziativa, programmata per i mesi di settembre, ottobre e novembre, che ha riscontrato un grande successo con già oltre trecento richieste di visite specialistiche, verrà istituzionalizzata e diventerà permanente.
La giornata di solidarietà ha avuto anche il supporto della Caritas Diocesana di Monreale e Palermo, del Centro di Accoglienza Padre Nostro ETS del Beato Giuseppe Puglisi e del Centro Speranza e Carità di Biagio Conte.
Di seguito il video con un servizio sulla giornata di solidarietà.
---
PROJECT ACTIVITIES STARTED
SOLIDARITY HEALTH IN COLLABORATION WITH KAROL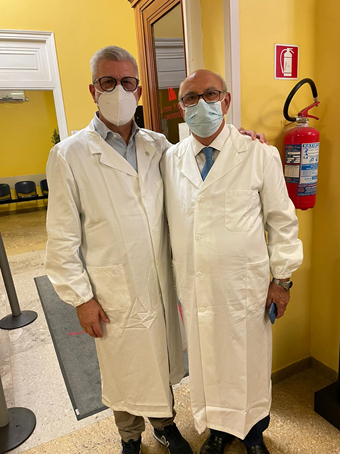 (Two of the Order's doctors involved in the initiative: on the left Dr Giuseppe Canzone, gynaecologist, president of San Lazzaro onlus, and on the left Dr Vincenzo Fontana, surgeon)
On 18 September 2021, the first day of free healthcare services for the needy was held at the Cosentino Clinic, in collaboration with KAROL s.p.a. and under the patronage of the Provincial Health Authority of Palermo. The event involved doctors from the San Lazzaro Order alongside KAROL doctors and other volunteers.
The activity, organised by the San Lazzaro onlus, the operational arm of the Grand Bailiwick of Sicily of the Order of San Lazzaro, attracted around a hundred people to the KAROL facilities, many of whom are Muslim.
The initiative, planned for the months of September, October and November, which has been a great success with over three hundred requests for specialist visits, will be institutionalised and become permanent.
The day of solidarity was also supported by the Caritas Diocesan of Monreale and Palermo, the Padre Nostro ETS Reception Centre of Blessed Giuseppe Puglisi and the Biagio Conte Hope and Charity Centre.
Below is the video with a report on the day of solidarity.