Pocta pre Biagio Conte apoštola chudobných.
OMAGGIO A BIAGIO CONTE APOSTOLO DEI POVERI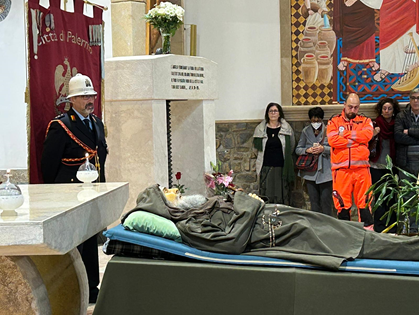 (La salma di Biagio Conte esposta nella chiesa della missione "Speranza e Carità" di Palermo)
Una delegazione del Gran Baliato di Sicilia dell'Ordine di San Lazzaro di Gerusalemme, composta dal Luogotenente Generale Avv. Pietro Luigi Matta e dal Presidente della ONLUS Dott. Giuseppe Canzone, ha reso omaggio alla salma di Biagio Conte nel corso della cerimonia ecumenica ed interconfessionale svoltasi presso la Chiesa della Missione "Speranza e Carità" da lui fondata a Palermo, con la quale da tempo vengono intrattenuti rapporti di collaborazione nel quadro del progetto "Sanità Solidale" portato avanti dal Gran Baliato con la Karol Strutture Sanitarie.
Figlio di imprenditori edili, Biagio Conte a tre anni venne portato in Svizzera in un collegio di suore, ritornando a Palermo a 9 anni per poi essere inserito nel collegio di San Martino delle Scale, dove rimase quattro anni.
A 16 anni abbandonò la scuola e iniziò precocemente a lavorare nell'impresa edile della sua famiglia, ma a causa di una profonda crisi spirituale decise di allontanarsi nel 1983, andando a vivere a Firenze.
Nel maggio 1990 scelse di vivere come eremita, ritirandosi nelle montagne dell'entroterra siciliano e successivamente facendo un viaggio interamente a piedi verso la città di Assisi.
Tornato nella città di Palermo, in un primo momento fu attivo nel portare conforto ai senzatetto della Stazione di Palermo Centrale, per i quali si batté attraverso diverse proteste ed un digiuno, grazie al quale ottenne l'utilizzo di alcuni locali in via Archirafi, all'interno dei quali fondò nel 1993 la "missione di Speranza e Carità", che oggi accoglie oltre 200 persone nei dormitori, e ne assiste altre 1000, in varie forme (cibo, farmaci ecc.).
Biagio Conte portò universalmente il messaggio di pace e fratellanza cristiano, in comunione con la Chiesa cattolica, dando sostegno a numerosi poveri ed emarginati italiani ed extracomunitari di qualunque etnia e provenienza.
Pur rimanendo laico, mantenne un rapporto strettissimo con l'Arcidiocesi di Palermo.
Il 16 gennaio 2014 fu reso noto che Biagio Conte, da anni costretto su una sedia a rotelle a causa di alcune vertebre schiacciate, già dalla precedente estate aveva ripreso a camminare dopo un'immersione nelle acque di Lourdes, evento miracoloso per gli stessi medici.
Il 12 gennaio 2023, a causa di una gravissima forma di tumore al colon contro cui stava lottando da tempo, è morto a Palermo all'età di 59 anni, nella stanza-infermeria della Cittadella del povero e della speranza in via Decollati, una delle zone più difficili della città. Con lui c'erano i compagni di viaggio più fedeli e quelli che lui chiamava "i miei fratelli ultimi", di cui aveva scelto di occuparsi al punto da condividerne ogni affanno. Il giorno precedente, pur fortemente debilitato, aveva chiesto insistentemente di partecipare alla Messa, ove venne trasportato su una lettiga e dove ricevette la SS Eucaristia.
I funerali si svolgeranno il prossimo 17 gennaio 2023 presso la Cattedrale di Palermo.
I Cavalieri di San Lazzaro Lo piangono e partecipano al dolore di quanto gli hanno voluto bene.
---
TRIBUTE TO BIAGIO CONTE APOSTLE OF THE POOR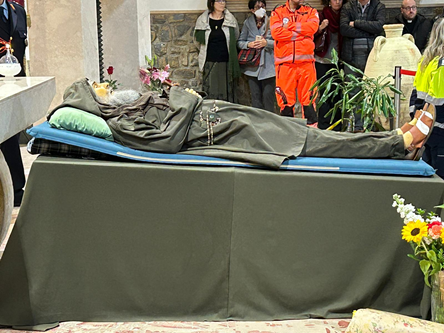 (Biagio Conte's body displayed in the church of the 'Speranza e Carità' mission in Palermo)
A delegation of the Grand Bailiwick of Sicily of the Order of St. Lazarus of Jerusalem, composed of the Lieutenant General Avv. Pietro Luigi Matta and the President of the ONLUS Dott. Giuseppe Canzone, paid homage to the mortal remains of Biagio Conte during the ecumenical and interdenominational ceremony held at the Church of the Mission "Speranza e Carità" founded by him in Palermo, with which the Grand Bailiff and Karol Strutture Sanitarie have been cooperating for some time in the framework of the "Sanità Solidale" project.
The son of building entrepreneurs, Biagio Conte was taken to a nuns' boarding school in Switzerland at the age of three, returning to Palermo at the age of nine to be placed in the boarding school of San Martino delle Scale, where he stayed for four years.
At 16, he dropped out of school and started working in his family's construction company at an early age, but due to a deep spiritual crisis he decided to leave in 1983, going to live in Florence.
In May 1990, he chose to live as a hermit, retreating to the mountains of the Sicilian hinterland and then making a journey entirely on foot to the city of Assisi.
Returning to the city of Palermo, he was initially active in bringing comfort to the homeless of the Palermo Central Station, for whom he fought through various protests and a fast, thanks to which he obtained the use of some premises in via Archirafi, within which he founded the 'Mission of Hope and Charity' in 1993, which today accommodates over 200 people in dormitories, and assists another 1,000, in various forms (food, medicines, etc.).
Biagio Conte carried the Christian message of peace and brotherhood universally, in communion with the Catholic Church, supporting numerous poor and marginalised Italians and non-Europeans of all ethnicities and backgrounds.
While remaining a layman, he maintained a very close relationship with the Archdiocese of Palermo.
On 16 January 2014, it was announced that Biagio Conte, who had been confined to a wheelchair for years due to some crushed vertebrae, had already resumed walking the previous summer after an immersion in the waters of Lourdes, a miraculous event for the doctors themselves.
On 12 January 2023, due to a very serious form of colon cancer that he had been fighting against for some time, he died in Palermo at the age of 59, in the infirmary room of the Cittadella del povero e della speranza in via Decollati, one of the most difficult areas of the city. With him were his most faithful travelling companions and those he called 'my last brothers', whom he had chosen to care for to the point of sharing their every affliction. The previous day, although severely debilitated, he had insisted on attending Mass, where he was carried on a stretcher and received the Holy Eucharist.
The funeral will take place on 17 January 2023 at the Cathedral of Palermo.
The Knights of St. Lazarus mourn him and participate in the grief of all those who loved him.