Vyznamenanie "Za zásluhy" lekárom- Záslužný kríž.
CONCESSO L' "ORDINE DEL COMPANIONATE OF MERIT" AI MEDICI DEL PROGETTO SANITÀ SOLIDALE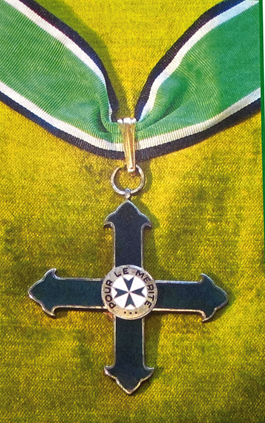 (Insegne di Commendatore di Merito)
Il Gran Magistero ha approvato la concessione, su proposta del Gran Balì di Sicilia, dell'Ordine del "Companionate of Merit" ai medici membri dell'Ordine di San Lazzaro che partecipano attivamente al progetto "Sanità Solidale" che ogni mese offre una vasta serie di prestazioni sanitarie ai meno abbienti.
Il "Companionate of Merit" compare per la prima volta negli statuti dell'Ordine di San Lazzaro del 1929 e veniva concesso solo ai nobili cristiani non cattolici ed alle donne (parimenti nobili) che, all'epoca, non potevano diventare membri "pleno iure" dell'Ordine di San Lazzaro. Nel 1948, con la modifica degli Statuti, furono introdotti i Cavalieri e le Dame di Merito ed i Medici ad honorem, che ricevevano questa distinzione onorifica per segnalati e rilevanti servizi in favore dell'Ordine. Dal 1979 è stata prevista la possibilità di concessione di questa onorificenza anche a coloro che già siano membri dell'Ordine.
Le concessioni sono così graduate:
Ufficiali: Francesco AMICO, Vincenzo ARGENTINO, Antonio FISCELLA, Marco IACOPINELLI, Paolo SCOLLO, Vincenzo FONTANA, Pietro Luigi MATTA
Commendatori: Giuseppe CANZONE e Marco ZUMMO
---
"ORDER OF COMPANIONATE OF MERIT" GRANTED TO THE DOCTORS OF THE SOLIDARITY HEALTH PROJECT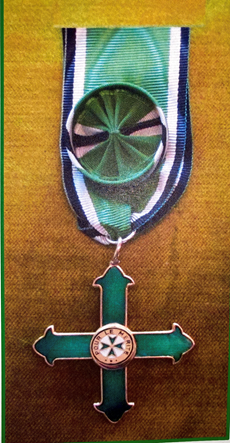 (Officer of Merit insignia)
The Grand Magistry has approved the granting, on the proposal of the Grand Bailiff of Sicily, of the Order of Companionate of Merit to doctors who are members of the Order of St. Lazarus and who actively participate in the "Sanità Solidale" project, which provides a wide range of healthcare services to the poor every month.
The Companionate of Merit first appeared in the statutes of the Order of St Lazarus in 1929 and was only granted to non-Catholic Christian noblemen and women (also noblemen) who, at the time, could not become members "pleno iure" of the Order of St Lazarus. In 1948, when the Statutes were amended, Knights and Dames of Merit and Honorary Doctors were introduced, who received this honorary distinction for outstanding services to the Order. Since 1979, this honour has also been granted to those who are already members of the Order.
The awards are graded as follows:
Officers: Francesco AMICO, Vincenzo ARGENTINO, Antonio FISCELLA, Marco IACOPINELLI, Paolo SCOLLO, Vincenzo FONTANA, Pietro Luigi MATTA
Commanders: Giuseppe CANZONE and Marco ZUMMO